Full, plump lips are sexy, but there are limits. Larger-than-average lips may appear out of proportion with other facial features and can interfere with eating, drinking and speaking.
If you feel that your lips are too large, lip reduction surgery may be worth considering.
Lip reduction surgery can permanently reduce lip size. This plastic surgery procedure may be performed alone or in combination with other facial cosmetic plastic surgery procedures, such as chin augmentation, jaw augmentation or rhinoplasty.
Lip reduction is a plastic surgery procedure that enhances facial appearance by reducing the volume of the lower lip, upper lip, or both lips. In most cases, it requires only local anesthesia, can be completed in less than an hour, and produces permanent results.
Are You a Lip Reduction Candidate?
The best way to determine whether you are a candidate for lip reduction surgery is to schedule a consultation with Dr Wilson. He will examine your lips, take a full medical history, listen to your concerns, assess your expectations and will decide whether lip reduction is right for you. You need to inform him about all medications you are taking, including nutritional supplements, as these can interfere with your healing and surgical results. In addition, let him know if you are a smoker.

The Lip Reduction Procedure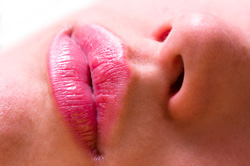 Lip reduction surgery is typically performed using local or regional anesthesia, although oral sedation is sometimes used. 
When performing lip reduction surgery, Dr Wilson  usually makes an incision along the length of your lip, usually on the inside of the mouth. Next, he removes a strip of tissue before suturing the incision closed. This surgery can be performed on both the upper and lower lips at the same time.
Lip Reduction Recovery
Immediately following your lip reduction, your lips may feel sore and tight. During the next few days, you may feel some mild to moderate pain. Some swelling and bruising are also to be expected after lip reduction surgery.
You will be provided with guidelines about when you can resume normal activities after lip reduction surgery and you will have to refrain from vigorous exercise until Dr Wilson gives you the OK.

Because the incisions are placed inside the mouth, eating may be challenging at first. Avoid foods with a high acid content — such as oranges and tomatoes — as they may irritate your wounds. Soft, pureed foods may be best immediately following your lip reduction surgery.

Your sutures will likely be removed within a week to 10 days following surgery, by which time most of your swelling should have subsided.
Risks of Lip Reduction Surgery
Although it is considered safe, lip reduction does have a few risks, such as

However, both are temporary and tend to resolve within weeks.

Lip Enlargement Procedures:
These can be achieved by Fillers, Fat Injection or even Silicone Implants. The latter two are Permanent.